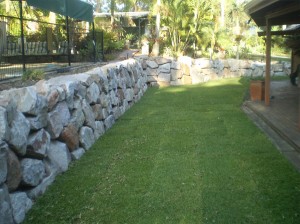 Four Mile Sandstone Pty Ltd was established in 2004 by Brett & Jodie Johnson.  Based in Gunalda, we supply sandstone product throughout South-East Queensland from Brisbane to Bundaberg.  We are the only 100% family owned and operated quarry and the only consistently run quarry of its type in the area.
Operating out of a quarry of approximately 20 acres in size with hundreds of acres in which expand, we offer a large volume of raw product, crushed decorative gravel, pitching rock, road base, and boulders for wall construction.
Brett & Jodie are locals to the area and are proud supporters and sponsors of the following local sporting and community events:
Gympie Touch Football, Gympie Junior Rugby League, Cooloola BMX, Gympie Turf Club, Gympie Gun Club, Gunalda camp drafting grounds, Kia Ora Trail Bike Ride, Gunalda, Goomboorian & Neerdie Rural Fire Brigade, Angle Care Flight, Gympie Music Muster, and Widgee Music Festival.